Apply To Advocate At TEDxBrisbane 2022
Advocates play a pivotal role in TEDxBrisbane's Engineering Impact strategy.  They hold a highly-respected position within the TEDxBrisbane community.
To understand the role of the Advocates you need to start by reading our introduction to the TEDxBrisbane Advocate program, which is a world-first in the global TEDx community.
Before applying to become a member of the TEDxBrisbae Advocate team, please take the time to read the following frequently asked questions and answers.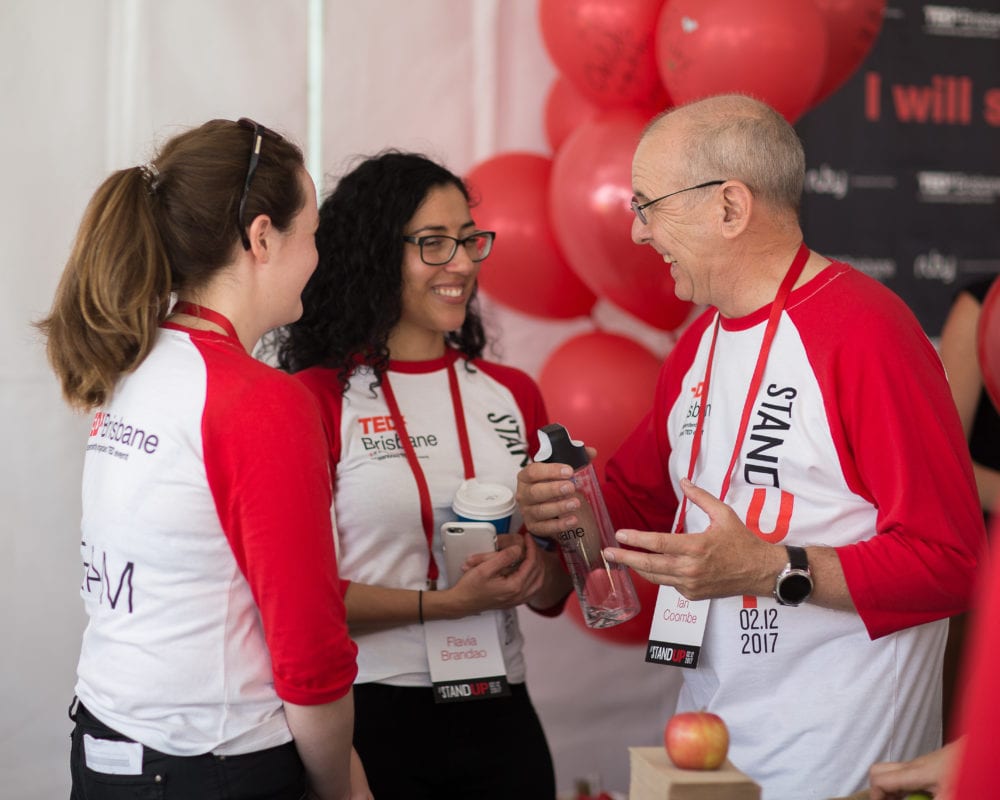 "Being an Advocate is a rewarding, life changing experience. TEDxBrisbane is an inclusive, supportive community where everyone genuinely wants you to succeed! The sense of belonging and accomplishment this experience brought me was second to none."
Flávia Brandão, Community Engagement Manager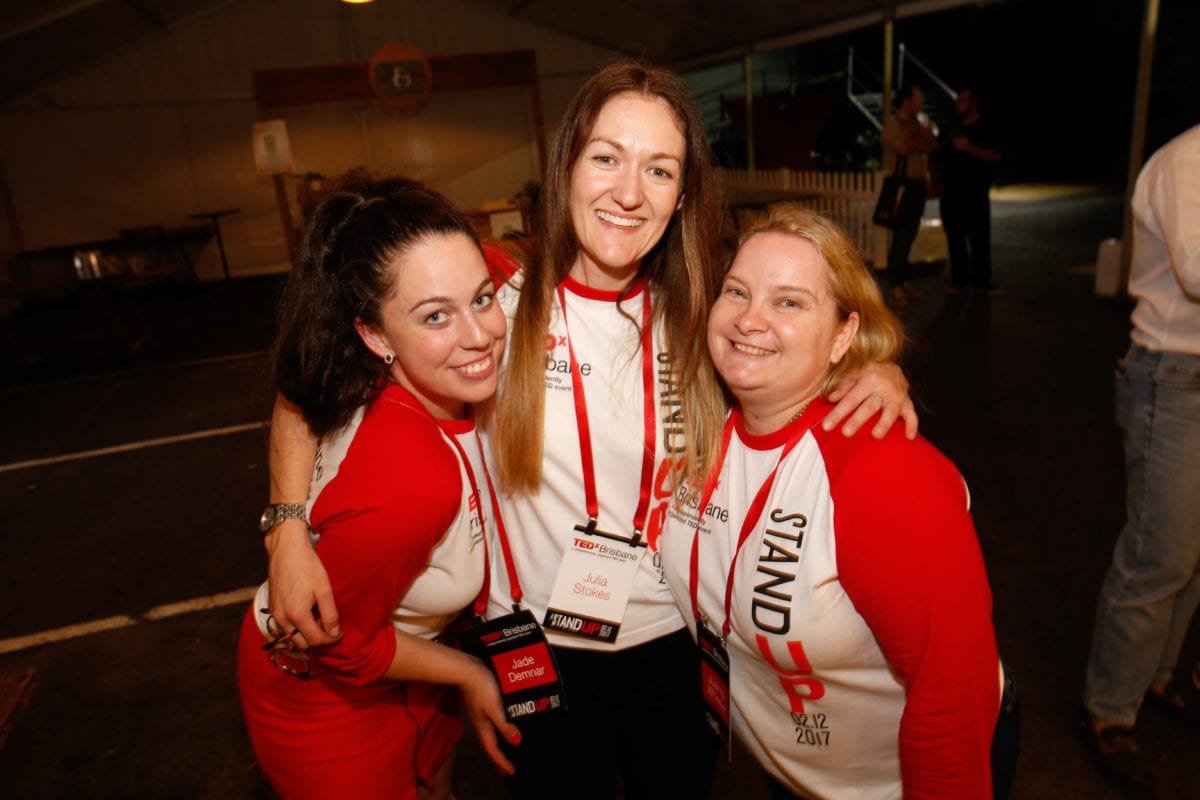 "Be prepared to be surprised! There is much to be gained from paying it forward, bringing people into the TEDx experience and connecting them to a thriving community."
Julia S, Advocate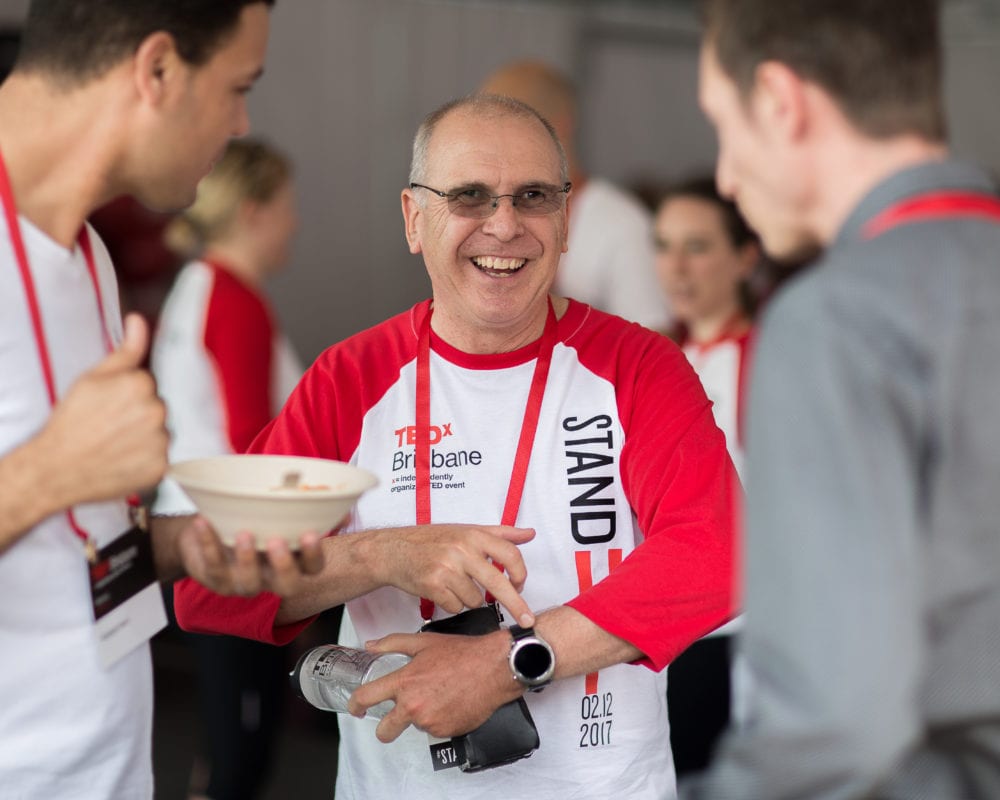 "As a TEDx Advocate, I saw the magic from close up. WOW! A whole new level of experience beyond attending."
Ian Coombe, Advocate
Advocate FAQ's
Do I need to have attended a TEDxBrisbane event to become an advocate?
Yes.  In order to become an Advocate, you must be a member of our alumni community (someone who has attended a TEDxBrisbane or TEDxSouthBank live event in person previously).
Why do I need to be a TEDxBrisbane alumnus to become an Advocate?
Two reasons.
Every TEDx community, while part of the global TEDx movement, has its own values and character.  We find the best people to welcome others into our own TEDx community are those who have experienced it first hand as a participant.
Secondly, the mission of TED – Ideas worth spreading, means that we are always struggling to find a balance between allocating tickets to alumni who are already members of our community and spreading the TEDx message to new first time TEDxers.  The Advocate Program is one way we can provide an opportunity for members of our much-loved alumni community to grow their personal engagement with TEDx while also gaining new professional development skills and connections.
What tasks would I perform as an Advocate?
Advocates perform a range of tasks before, during and after event day, including:
Supporting particip

ants to enter (reconnect with) the community in a meaningful and stress-free way

Calling each of their matched participants before event day to welcome them to the community, answer any questions they might have and find out more about what they're hoping to achieve or working on

identifying meaningful and strategic connections their participants should connect with before or on the day, and sharing it with them

supporting the community before the day, on the day and after the event through the various TEDxBrisbane platforms and pre-event activities.

connecting with every one of their allocated participants on the day, and providing any support needed – be it logistical, operational or social. 

helping participants establish and grow meaningful connections that will advance their individual change-making efforts #engineeringimpact

Engaging with participants beyond event day to help them to stay inspired, put their ideas into action, and stay connected in meaningful and beneficial ways with the TEDxBrisbane community.

We will also be encouraging, though not requiring our Advocates to host one or more TED Circles events (think book clubs for TED Talks) in the lead up to our events – with our support. We think it is an ideal way to reconnect with, grow and nurture our current and future TEDxBrisbane community.
What kind of people make great Advocates?
Given Advocates are humans and not robots there is no one set of attributes. However, some of the different attributes we have found that great Advocates can have include:
Extraverts who love meeting new people – and doing something purposeful as a result of those meetings

People who love walking up and engaging in meaningful conversations with strangers and calling participants they've never met

People who love purposeful networking – connecting people who can help each other make the world good (or at least a little better).

People with great connections and networks they would love to share to everyone's mutual benefit.

People who would rather be in the theatre than outside organising event operations.
I heard the Advocate program is changing this year – what are the changes?
We are always looking to make our events better, and the Advocate program is something we work to enhance every year.  
In response to the growing size and complexity of our events, and to requests from previous Advocates themselves, we have changed the team structure to completely separate Advocate roles from Crew roles.  Here are the important points to note regarding the updated Advocate program:
Individuals must still be a TEDxBrisbane alumnus to apply to become an Advocate

Advocates will no longer be required to perform any on-the-day operational tasks, such as bumping in, bumping out, staffing registration desks, or serving meals. These will now all be performed by members of the Crew.

Advocates will be able to access every in-theatre session in full.

Advocates will be asked to purchase a half-price Advocate Ticket 

Advocates will receive a dedicated Advocate t-shirt, as well as the SWAG bag and any other participant entitlements.

If the reduced cost of the Advocate ticket would still prevent someone from becoming an Advocate, they can apply for a scholarship.
Do Advocates get to watch all the talks? 
Yes, Advocates are able to access every in-theatre session in full along with the participants.
Do Advocates get a SWAG bag? Do they get a Team T-shirt?
Yes, Advocates will receive a dedicated Advocate t-shirt to wear on the day, as well as the event SWAG bag (Stuff we all get) and any other participant entitlements.
Do they need to pay for their ticket?
Yes, Advocates will be asked to purchase a special half-price Advocate Ticket. Their ticket will give them access to a seat in the theatre, the SWAG bag, a Team shirt, all-day catering and a fabulous event experience.
I think I'm better suited to join the crew. How can I find out more and apply?
Crew applications are always open. The database of applicants is the first place we go when an opportunity to join the team arises. You can complete an application form here.
I still have a question.  Who can I ask?
Please email your question to hello@tedxbrisbane.com.au with the subject line 'Advocate Program'.  We'll get back to you as soon as possible. If we take a little time to respond it's because we're a volunteer-run community, and we're probably at our day jobs. We appreciate your patience.